www.UnitNumber.com
Standard Colors
Sample colors shown on your computer screen are approximate matches only! We strongly suggest you request free sample(s) to view actual material colors. e-mail your request.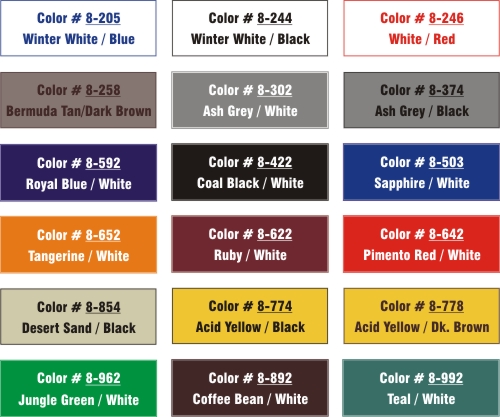 (click here for manufacturers color swatch)
We can produce a custom color material to match your color scheme. The bottom layer, which would also be the color of the digits, must be white or black, but the top layer can be made to match a color sample you provide.

Custom Color Charges:
1-Time color match charge of $100.00.
Custom-color set up charge of $125.00 per order.
Minimum order of 500 signs. (Actual minimum order will depend on size of signs)
Addition per piece charge of 4¢ per square inch.
Note: If you anticipate ordering custom color UnitNumbers for future facilities, we suggest ordering enough material with first batch to avoid another custom-color set up charge. Please contact us for more details.
Delivery time is approximately 4-5 weeks.
Home · Product Information · Ordering Guidelines · Standard Colors · Standard Sizes · About Us · Order Form · FAQ's

Copyright © 2005-2012 Classic Design Awards, Inc.. All rights reserved.
Revised: 03/13/12